Privacy in the workspace...
Privacy can be defined in two different ways. It can be defined as freedom from unauthorized intrusion, but it can also be defined as a state of isolation from any presence or surveillance.
Nevertheless, privacy at work is disappearing in the workplace. Steelcase's study of more than 10,500 employees worldwide demonstrates the lack of privacy at work. It also reveals that the ability to focus or work as a team is being challenged.
This evolution has necessarily impacted the design and layout of a company's workspaces. For many years, it was considered that a closed office was the best solution to put the employee in the best conditions. Gone are the days of cube offices, also known as "Cube Farm". Nowadays, our workspaces are organized around three main axes: concentration, exchange and well-being. It is in this sense that many companies have turned to openspaces. The openspaces are open offices, real collective work space where the offices are installed on a single platform and are not separated by partitions. This is the case of Google, Facebook or Airbnb. Today, there are even openspaces open to all workers regardless of their background, these are the coworking.
Employees worldwide demonstrates the lack of privacy at work
...and in the meeting places
The lack of privacy is not only limited to work spaces but also to other types of spaces.
Especially in day care centers where the noise of the little ones can become problematic for the well-being of both the childcare workers and the children. 
Crowded places such as restaurants are also subject to noise and visual nuisance.  An evening in a restaurant is always more enjoyable in privacy, and visual dividers can create zones of confidentiality to make this sharing moment more personal.
This is also the case for canteens and company cafeterias where there is a high concentration of people and therefore noise. 
The visual and acoustic separation allows the creation of cosy spaces to minimize the impact of noise as well as areas of tranquility and privacy in all circumstances.
Accompany your open spaces with visual separations for better comfort
Visual dividers are ideal for creating privacy for employees in an open space. Even more so when they have acoustic properties such as the myO products. Whether they are free-standing or integrated directly on the desk, visual dividers are a major asset for restoring a certain confidentiality in the workplace.
Moreover, these visual dividers are often easy to install and can be adjusted anywhere in the room. This is very interesting for companies that regularly change the organization of their offices.
Following the recent events, the dividers have become a first barrier in the transmission of the virus at work. It has become an element allowing to adopt a better social distancing while having a better visual and acoustic separation.
What types of visual separators exist?
The office separators
Fixed or simply placed on the desk, the Kinô acoustic desk divider allows you to create a calm and isolated work bubble.
With different fastening systems, the Kino desk divider can be placed or hung on a single or double desk to allow everyone to have their own space.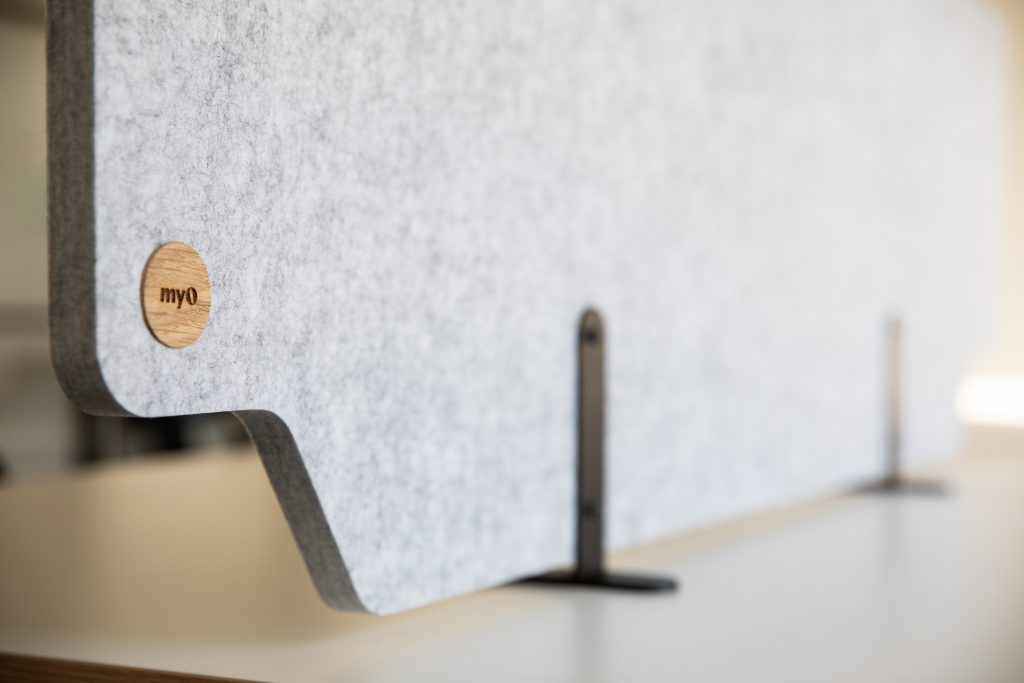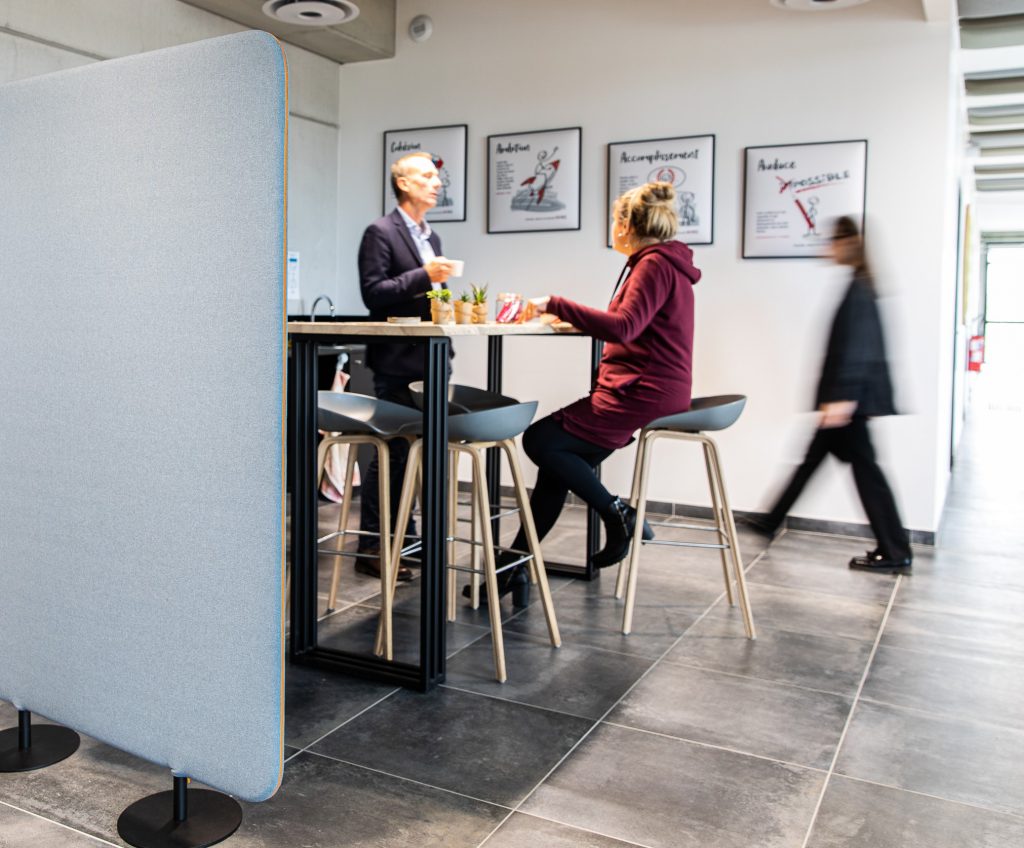 Space dividers
Suspended or free-standing, space dividers allow you to create a corner of privacy within open spaces. 
Kinô zone divider : Suspension panel made of polyester fiber, it is an effective barrier to fight against the reverberation of the sound.
Lugn duo360 rotating acoustic screens : Whether trapezoidal or rectangular, the DUO 360 works in identical pairs, in shape and color, slid on a common base. The screens rotate 360° on themselves.
Lugn uno acoustic screen : Easy to move, the UNO structures spaces, ensures intimacy and considerably reduces sound reverberation.